 24 years as an Assistant to the Management in the same company – previously unimaginable for me! In fact, the years at HOSCH have gone by very fast, boring routine has never settled in. The tasks in the management of a real global player are diversified, demanding and interesting. There are plenty of creative opportunities for HOSCHies. Great colleagues at the headquarters and worldwide have always been a real gain for me personally during my working life. Encountering many different cultures is a pleasure – friendships for life made through my job. I am doing an apprenticeship as a construction mechanic (3.5 years). I decided to do this training because I want to learn a profession that offers me new aspects every week and much diversification. HOSCH offers me this opportunity through my colleagues. As a construction mechanic, you are involved in the production of sheet metal and steel constructions from the initial processing of the raw material to the assembly. My tasks include welding, drilling, cutting & assembling, which I easily master with the help of my instructors and colleagues. HOSCH offers me a wide range of perspectives and opportunities to develop personally and also professionally. I soon realised that the profession of an industrial clerk was exactly what I wanted to do and what I had wished for. The job is diversified and multifunctional and, above all, I enjoy it. Within a short time I knew that I had ended up in good hands and could learn a lot from my colleagues. They are very obliging and help me to answer all my questions concerning professional matters as well as topics from the vocational college.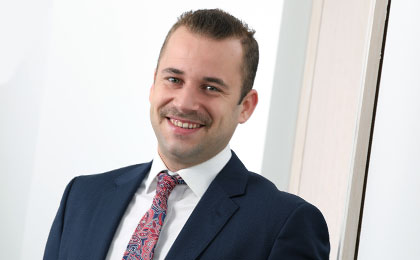 Since joining the company in 2017, I have been able to manage numerous exciting and very different projects. Starting with the international roll-out of our ERP system, I was able to learn a lot about the product and its components, but also get to know the international colleagues in the respective national companies during the go-live, i.e. the introduction of the system on site. I have been working in the marketing department for a few years now, thrilled by the different tasks I have to tackle. Especially the international side of our business makes every day an interesting challenge. I have been with the company since April 2006. My predecessor had asked me if I would be interested in working in the sales management. As an engineer for process technology, I would be able to contribute my experience in processing technology to HOSCH. The combination of sales/technology/research and development was an immediate fit. The job is very interesting, we work in many different industries and there are always new challenges; it never gets boring. In the very first year, there was a funny incident. During a site inspection with two other colleagues, we were walking side by side (our body sizes being tall, medium and short). Suddenly someone called out behind us. "Hey, are you the Daltons?" We turned round and all three spontaneously said, "No, we're the HOSCHies!"
For pupils, students, university graduates or skilled workers and executive staff
Nine reasons why it's worth shortlisting for a job at HOSCH
HOSCH is doing business all over the world and has branch offices in many interesting countries. Curious to know more?